travis reid
With over 15 years of management experience with some of the best and largest homebuilders in the country, I have been privileged to acquire, develop, build, and manage world class communities, neighborhoods, and award winning homes for hundreds of families. My passion for the creative process, and my dedication to delivering results to clients are what sets me apart from other luxury home builders. I enjoy getting to know my clients, and bringing their vision to reality.
My experience and commitment to excellence are the driving force that has led Travis Custom Homes to become one of the premier custom home builders in Arizona. I grew up in the building industry, learning it from my father, who was taught by my grandfather. Integrity, patience, quality, perseverance, honesty, value, persistence, and trust, are a few of the principles that have been ingrained into my character over time. These same standards are also the guiding principles of how Travis Custom Homes works with our clients and trade partners. I grew up understanding that the value of the experience for the client is almost as important as the financial value of the finished product. Our goal is to build a relationship with every client, and to create an outstanding experience that reflects these qualities.
For me, it is a personal expression of my heritage.
My years of extensive experience with project planning, development, entitlements, and construction make even the most complex projects achievable. Having built hundreds of homes and numerous multifamily projects valued in excess of $300 million across the Southwest, my focus has always been on providing an excellent customer experience, and delivering a quality product.
Having grown up in the valley, I have a passion for the Scottsdale/Phoenix/Paradise Valley area. I truly value the trust that my clients place with my team and I. Our goal is that we not only build an exquisite home for every client, but that we also build a lasting relationship as well.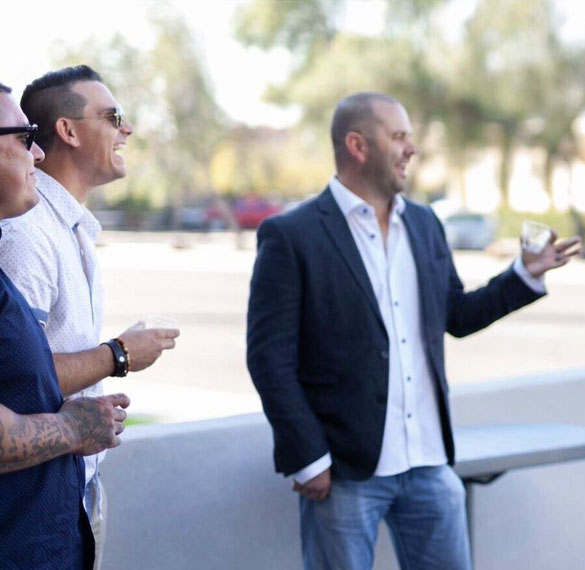 our vision
We know one of the most important attributes that makes for a successful project is communication. We listen to what our customers tell us about their lifestyle, their vision, their concerns, and incorporate that feedback to create an experience that is uniquely tailored to every client.
Whether building a new home, adding to, or updating your current home, we work closely with our clients through the entire process to ensure a seamless and positive experience.
We are passionate about creating a finished product that reflects the timeless quality of exceptional design, craftsmanship, and high quality products. We provide meticulous attention to every detail of the building process, with special focus on creating superior designs, and utilizing quality building materials and best in class construction methods. Cost efficiency, quality construction partners, deliverable time lines and superior-quality materials create spaces that live well, and provide the kind of environment that you want to call your HOME.